We built The Green Link on the foundational belief that humanity already has the required technological solutions to combat & adapt to climate change.
Being more sustainable is both Easy but Not Simple. Easy as in setting strategic figure is work but in the end, it's just a figure. Not Simple because once you know what you want to achieve, you need to operationalise your strategy and not reinvent the wheel.
We provide "Sustainability as a Service" to help our clients design their sustainability strategic ambition & the operational tactics to achieve the climate pledge they take.
OUR ROOTS, BACKSTORY & TIMELINE
It started with a meta-study co-founders Bernard Lebelle (previously National Innovation Director at Deloitte Canada) and his wife Lila launched to understand why existing clean technology solutions were not truly scaled.
Their international experience had already given an ample glimpse of the wide portfolio of already existing, proven clean technologies that one can find across the planet.
At a family Sunday lunch in April 2019, Oscar, their 3rd son talked about the report on upcoming mass-extinction and climate crisis by 2030 if nothing was done to curb the environmental trends. Alexandre, the youngest of their 4 sons, told Bernard & Lila "Hang-on, I'll only be 21 years old by 2030… will I not have a future? What are you going to do about it?".
The question became "How can we reverse engineer success and build an approach that could ensure that we can help any company that wants to improve its environmental footprint by leveraging existing solutions?"
And that's how The Green Link's approach and method was born.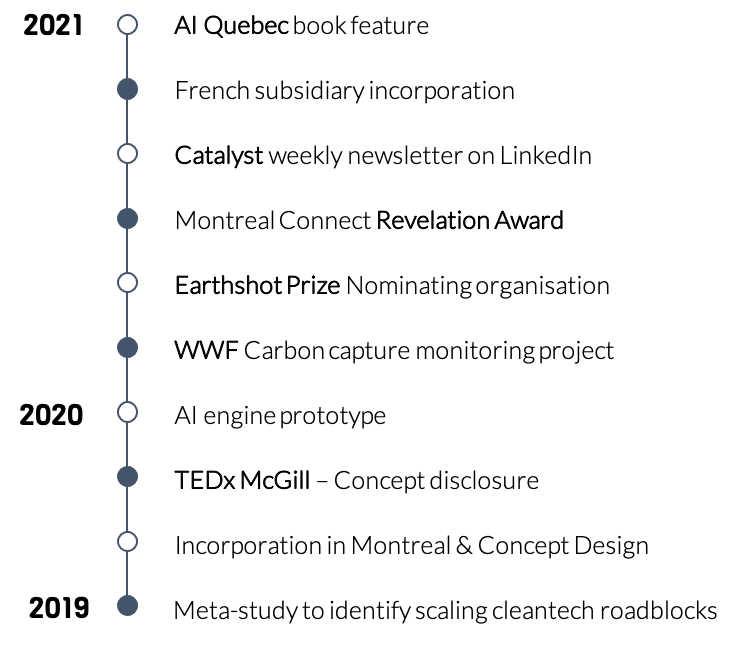 Fact Sheet
For media inquiries, contact press@thegreenlink.co
Founded: 2019 in Montreal, Canada
Customers: WWF, Novo Nordisk, Deloitte, FCL Canada.
Team & Offices : 10 people across 7 hubs – Montréal | Toronto | Brussels | Paris | Dubai | New Delhi | Sao Paulo
Investors: Bootstrapped & organic growth driven, leveraging the Exponential Organisation Framework, we have grown and aim to be profitable before taking any outside funding.
Media & Press Kit
Short Description
The Green Link is an AI-enhanced Sustainability Strategy Boutique leveraging existing international mature clean technologies to help companies improve their environmental footprint.
Boilerplate
The Green Link started disrupting the Sustainability Advisory space with the introduction of its active AI-enhanced international tech scan & green-funding support concept in 2019. Winner of the Jury Revelation Award at Montreal Connect in 2020, The Green Link today provides B2B "Sustainability as a Service" across the world with its holistic methodology & offerings. Maturity Assessment, Strategy Design, Employee Engagement and Tech-scan services help clients keep their climate engagement. The Green Link's team & network are dedicated to embedding Sustainability in all strategic & operational domains of organisations in order to secure a sustainable human presence on Earth.
Our Mission
We built The Green Link on the foundational belief that humanity currently has the required technological solutions to combat & adapt to climate change.
Mitigating environmental risks is the only smart business strategy for this decade. Hackathons & open-innovation challenges have regularly proved  inefficient and usually ends-up re-inventing the wheel.
For any environmental risk, with 8 billion people on our planet, someone, somewhere as a component of the solution.
We just need to actively scan the world for existing planet-proven scalable technologies.
The Green Link offers Sustainability as a Service for companies that want to become more sustainable by helping them design their sustainability strategy, engage their employees in a sustainable transformation and scouting the world for existing technological solutions when needed.
Company Values
Our core belief that we must secure the building blocks of human life to ensure a sustainable presence on Earth explains Why we do What we do.
Our values explain How we make all this happen:
Sustainability is a business strategy issue | and not a political issue, every company must be climate-ambitious.
There is no silver-bullet | each environmental challenge needs a dedicated solution-set.
Solutions are available | the future is already here,  just not evenly distributed and we intend to change that !
Everybody benefits | as implementing cleantech solutions creates direct & indirect local jobs strengthening local community & ecosystem.
We still have time | the exponential pace of progress brings a flow of regular positive breakthroughs.