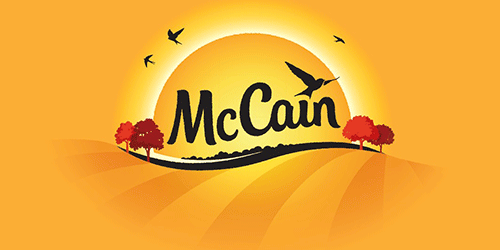 McCain takes the lead with a positive environmental business strategy in Canada.
Canadian-based McCain, "the world's largest manufacturer of frozen potato and appetizer products", made waves this week as they announced their sustainability plan through their first Annual Report. Among the key themes stand a few crucial areas for sustainable development in the Canadian economy and landscape. Smart and Sustainable Farming, Resource-Efficient Operations and Good Food are among the focus points of McCain's first report.
Some 18% of the world's carbon emissions are linked to agriculture and land use, making sustainable and smart farming one of the most important goals of the next 10 years. By sharing their goal of "25% reduction in CO2 emissions per tonne from potato farming, storage, and freight by 2030 (Scope 3)" (McCain Sustainability Report 2019), McCain has potential to push the needle on farming-related greenhouse gas emissions (of which carbon dioxide, methane, and nitrous oxide are included) not only within their own activities, but within the value chain they rely upon to serve their customers.
One of the strongest assertions in McCain's report is their understanding of the impact they can have through their lead role in the industry. By supporting potato farmers in the transition towards a low-carbon economy by reducing their own carbon footprints, McCain's shows potential for sustainability leadership throughout the vertical potato industry.
The report's focused goals and specific examples is a second strong point. By providing a clear direction and intention of focus (within agriculture, for example, fertilizers are a key focus), McCain opens the door to potential partnerships and opportunities for solutions to work in lockstep to achieve their sustainability goals. A highlight of the section on Resource-Efficient Operations is McCain's goal to make "100% of their packaging recyclable, reusable, or compostable by 2025 while continuing to reduce packaging weight and increase recycled content" (McCain's Sustainability Report 2019). While most of their packaging to date is technically recyclable, this goal will require work within the recycling value chain to ensure packaging is collected, sorted, and recycled for reuse according to the Ellen MacArthur Foundation standards. This provides additional opportunities for partnership and collaboration.
The sustainability strategy described utilizes a mix of adaptation and mitigation techniques, increasing likelihood of uptake, not only within the company internally, but throughout the value chain. By protecting the resources we have at our disposal while preparing for the increases in temperature and climate volatility expected, businesses can mitigate risk to their operations and ultimately tend to perform better in financial analyses.
At The Green Link, we're excited to see the leadership, committed SMART goals, and progress already being made by McCain's. We are looking forward to the next annual report and strongly commend the hard work put in by this Canadian-grown globally leading brand. Hats off to you, McCain's!